BACK TO RESOURCES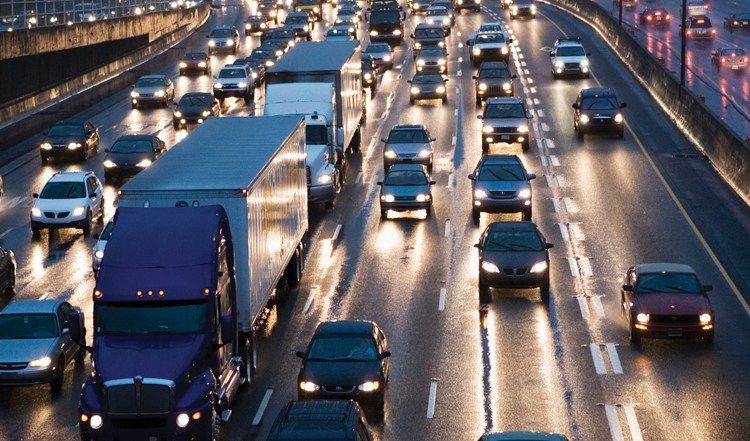 How to Make Your Wireless Infrastructure Future Proof
No one likes Atlanta traffic. The city's infrastructure was originally designed to accommodate a smaller population, and recent attempts to expand it aren't moving fast enough to keep up with the growing number of people. Instead, Atlanta commuters get stuck in traffic that adds hours to our work days – but with no boost to our productivity.
Now picture your wireless infrastructure. Demand for wireless connectivity is growing as the number of people working from Wi-Fi-enabled devices continues to multiply. Is your infrastructure designed to accommodate the increasing volume, or are you losing productivity in slow-moving traffic?
Wireless infrastructure is the backbone of the mobile marketplace. As our culture becomes increasingly more mobile, wireless technology is evolving to offer new features and services – and your wireless infrastructure must also evolve to support it. For businesses, this means that to get ahead in the market, you have to stay ahead on wireless technology. And it's moving fast.
The process of upgrading your wireless infrastructure can take up to two years from proposal to deployment – so if an upgrade is in your future, now is the time to get started.


Start with Forward-Thinking Wireless Infrastructure Strategy
According to a survey of 250 business and IT professionals that research firm Forrester conducted in mid-2015 on behalf of Zebra Technologies, 46 percent of respondents in the retail, travel, transportation and logistics, and hospitality industries said they are planning to refresh their wireless infrastructure in order to focus on better wireless coverage. And according to 44 percent of these business managers, those who have already completed recent wireless upgrades are seeing direct revenue growth.
Don't make the mistake of confusing a true wireless upgrade with a simple hardware refresh, though. Adding new or replacing old hardware could do more damage than good to your wireless network if your infrastructure is not planned and implemented to support growth. A future-proof wireless infrastructure should have three major characteristics:
Speed
Coverage
Expandability
If your infrastructure is not future proof, you may need to rethink your wireless strategy altogether. Here are five strategy adjustments to consider before upgrading your wireless infrastructure.
1. Think Long Term
According to Forrester, most wireless platforms are formed ad-hoc; companies simply add onto an existing network to support wireless features as needed – providing employees and guests with access to the network for their mobile devices, for example.
Networks that were never intended to support large numbers of devices are becoming overwhelmed by increases in traffic resulting from Wi-Fi-enabled devices. This leads to slower connection speeds and a patchwork of technology that has limited potential for long-term growth. To avoid this situation with your own network, you need to regroup and reorganize – think long term, and develop a strategy that centers on wireless connectivity.
Depending on how your infrastructure was designed, this could mean scrapping it all and starting over – but not necessarily. "We have found that unplanned, patchwork networks are often implemented incorrectly and are detrimental to overall network performance, requiring that they be scrapped from a wireless perspective," explains Kyle Stanford, Strategic's own Network Engineer and resident wireless expert. "But during our site surveys for customers, we analyze the network installation and attempt to reuse any pieces that we can. Sometimes, we plug into an existing wired infrastructure and find that only configuration changes to the switches are really necessary, and we can suggest additional, similar improvements that will benefit both their wired and wireless users."
So don't keep adding more access points without first understanding how well your infrastructure can accommodate an influx of new device connections. Prevent overburdening your network – now and in the future – by making sure your wireless infrastructure has what it takes to support inevitable growth.
2. Think Fast[er]
Imagine buying a Ferrari, only to find that you are restricted to driving it on busy two-lane highways with 35 mph speed limits. What's the point of having a fast car if you can't experience its capabilities?
Speed is perhaps the greatest motivating factor behind wireless upgrades. Devices are getting faster and faster, but they can only process information as quickly as the network will allow the information to travel.
There are almost no devices still on the market that are not capable of at least 802.11N speeds. In fact, most smartphones and new laptops now are capable of 802.11AC speeds, bringing cabled speeds to the wireless spectrum. If your wireless infrastructure does not support at least 802.11N, you need to upgrade ASAP. And with 802.11AC speeds being offered at prices comparable to the 802.11 access points, you should take advantage of this opportunity to future-proof your infrastructure, as devices are sure to only get faster.
3. Think Business
Was your wireless network initially designed to supplement connection to a wired network? If so, your infrastructure probably isn't fully capable of supporting web-based business operations. It's time to invest in hardware that is designed with business in mind. As we rely more and more on wireless infrastructure and less on wired, mobile workforces are forcing network design changes to accommodate how they work.
For large companies or small businesses that intend to grow, enterprise-focused infrastructure is a must. The major difference between an off-the-shelf, consumer-based infrastructure and a business-centered infrastructure rests in the capability of its access points or APs. Features that set enterprise-class APs apart from consumer APs include:
Single pane of glass management for multiple APs
Built-in wireless intrusion prevention system (WIPS)
Continuous expansion – you can start with two APs and easily add thousands if needed
Roaming capabilities that enable users to move through a building while maintaining seamless coverage
According to Forrester, investment in business-centered infrastructure improves customer service, speeds up decision-making, and makes employees more productive – all of which can improve your bottom line. Of the managers Forrester interviewed, 44 percent reported that recent upgrades are driving revenue growth; 35 percent agree that recent upgrades have actually opened up new market segments.
4. Think Mobile
In today's mobile world, where business operations commonly run on mobile devices, being stuck with an ad-hoc, consumer-based infrastructure not only severely limits growth, it also takes away your flexibility.
Mobile-centered infrastructure is designed to support devices as they move through a building or coverage area. In order to provide seamless connectivity to devices that are moving in and out of range, with fast and secure handoffs from one AP to another, your access points need to fully support the roaming capabilities found in enterprise-level APs.
A mobile-centered strategy also gives you the ability to tailor your network to the specific types of mobile devices that will be on it. Because factors such as receivers and antenna sizes differ from one device to another, your access point deployment may need to be more or less dense depending on the devices you need it to support.
Instead of simply providing generic wireless coverage to any device that joins a network, which can be affected by the type and number of devices, a mobile-centered wireless strategy is designed to maintain optimal performance as devices of different types move in and out of coverage areas.
5. Think Big[ger]
Enterprise-level hardware not only supports the higher speeds that are critical to the operations of a large company, it is also designed to leave your infrastructure open-ended so that you can simply add new hardware and features as needed (making these changes planned for, as opposed to ad-hoc). In addition to the enterprise-level access points we mentioned earlier, most large infrastructures also will need enterprise-level controllers.
The definition of "large," however, is tricky. It's not hard to convince a large company that they need enterprise-level infrastructure, and most mom-and-pop businesses know they don't need it. But sometimes medium-sized businesses can get caught in a gray area – they need more than the consumer-based hardware that a small storefront can get away with, but less than the heavy-duty hardware needed by giant corporations. Strategic offers a solution for medium-sized businesses that need forward-thinking infrastructure.
"Using Zebra's WiNG [Wireless Next Generation] infrastructure, a single site deployment of fewer than 64 APs has no need for a controller, as our APs are fully capable of functioning as a 'virtual controller'," says Stanford. "This makes it cheaper, easier to install, and requires less hardware to manage and refresh in the future. It also gives us the capability of expanding upon the infrastructure by adding a controller later if one is needed, leaving the solution open-ended. We have replaced infrastructure in medium-sized businesses that have spent large sums of money on controllers that weren't even needed for their deployment had they chosen the right APs and deployment style."
In today's world, we have come to expect answers fast and at our fingertips. Businesses depend on mobile infrastructure to provide service to their customers and to run their business processes. Customers rely on wireless connections to shop for goods and services, make reservations, and check on orders. Fast, reliable mobile connections are no longer a matter of convenience – they are an absolute necessity.
Are you exploring hardware options for your next refresh, or thinking about upgrading your wireless infrastructure? We can help! Request a complimentary wireless network assessment to determine the next steps in improving your organization's connectivity needs.