BACK TO RESOURCES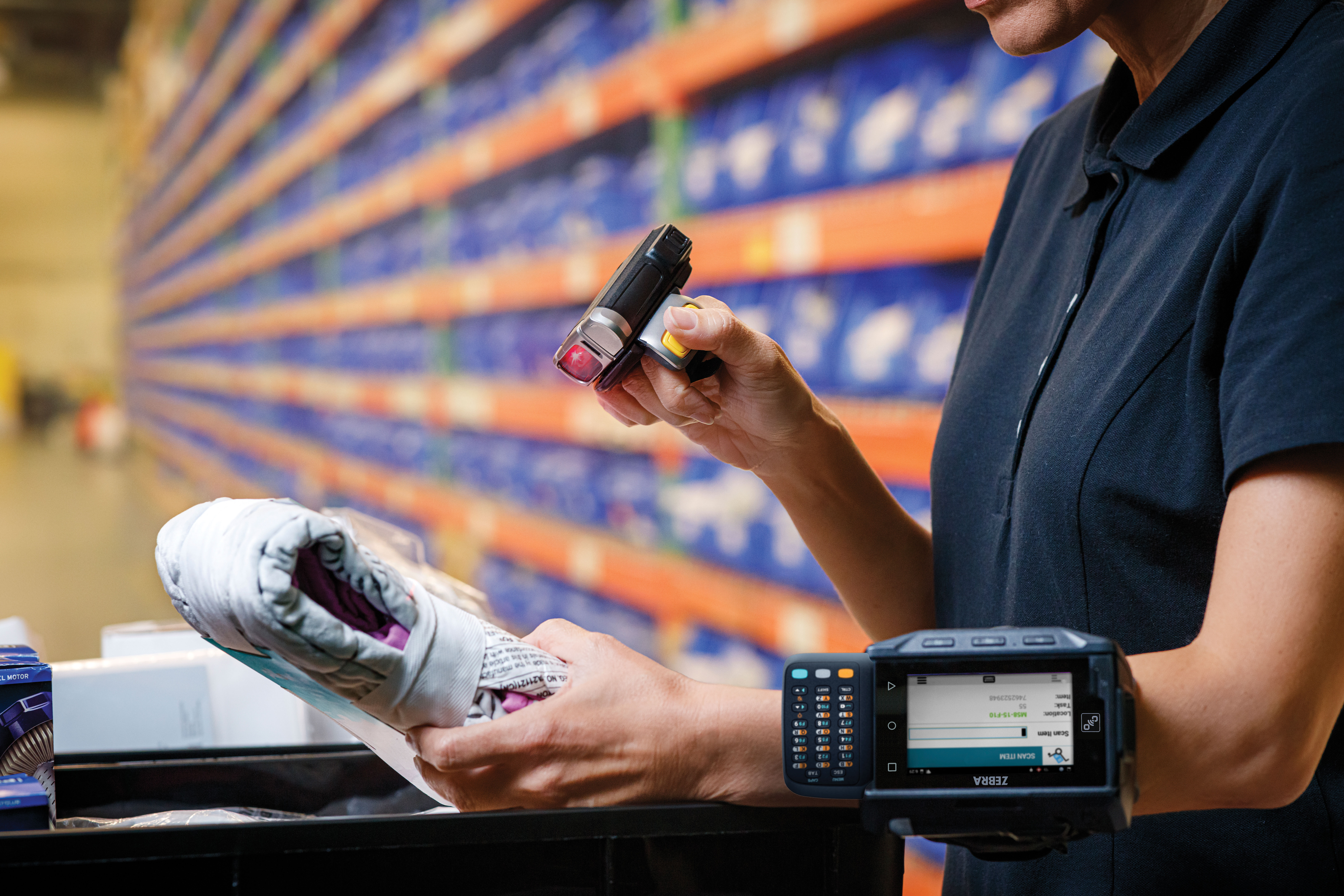 5 Ways to Enhance Your Operations with Zebra's WT6300 Wearable Computer
Whether in the warehouse or storefront, e-commerce has heightened demands for faster, more accurate order processing. While a five-day shipping ETA was acceptable a few years ago, today's shoppers also expect same-day shipping and pick-up-in-store options. Workers can have as little as a few hours to compile orders accurately. If mistakes slip unnoticed, businesses risk:
Missed sales

Delayed shipments

Lost customer loyalty

Increased worker stress

Higher correcting costs
To prevent losses while empowering workers, Zebra's WT6300 wearable computer leverages natural muscle movement and an intuitive platform. By pairing the touchscreen with a keypad, the WT6300 breaks down learning barriers and speeds up data entry for faster fulfillment. When implemented alongside a dedicated modernization team, the wearable computer has enabled the following benefits:
30% increase in order throughput rates

– When part of a hands-free system, the WT6300 empowers workers to handle items with both hands since there is no need for rescanning. Frictionless picking enables teams to move faster and process more orders within a smaller timeframe.

Maximized worker comfort

– The WT6300 contains a low center of gravity, designed to minimize muscle effort by up to 50%. In doing so, the device reduces arm fatigue while alleviating pressure points. Its adjustable mount also provides the perfect fit for any arm.

Higher durability standards to prevent breakdowns

– Dust-proof and water-resistant, the WT6300 is built to thrive in challenging environments. Its rugged casing survives high drops and consecutive tumbles thanks to a IP65 sealing and shatter-proof Gorilla Glass. Lastly, the WT6300's touchscreen automatically adjusts sensitivity settings for gloved hands.

Future-forward familiarity

– The extended keypad provides a familiar data entry experience for users familiar with legacy Windows CE systems. However, the WT6300 facilitates app conversion into a touchscreen interface, so you can optimize legacy apps while retaining the same look and feel. This minimizes the need for more training, further lowering deployment costs.

Extended battery lifecycles for unbroken productivity

– Raising the standards in enterprise efficiency, the WT6300 is the only device of its kind to offer extended battery life. Hot-swappable batteries allow users to change batteries without powering down devices. Moreover, Zebra's PowerPrecision+ helps you track battery performance and pinpoint aging power sources before they impact productivity.
When building a total wearable solution, wearable computers are only one part of the equation. From ring scanners to head mounts, today's tech players have developed several hands-free technologies that enhance order fulfillment with less labor. Schedule a workflow assessment with Strategic Systems and Technologies to see how your operations can grow with wearable devices.